by Philip King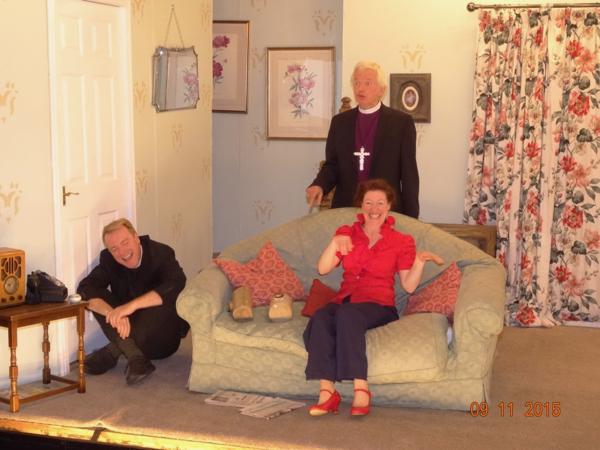 Such fun!!
Performance Dates: 11th-14th November 2015
Directed by Eileen Taylor
This delightful play is one of the original Whitehall farces. It is set in the 1940s in a village in wartime England.
The Reverend Lionel Toop's wife Penelope is an actress who is finding it difficult to settle in to her new role as the vicar's wife. While Lionel is away, Clive,an actor now serving in the army, who used to know Penelope in her former life, calls at the vicarage. He invites Penelope to dine in town which is out of bounds to servicemen. He dresses in Lionel's blacks. Miss Skillon , a parishioner and busybody who has always carried a torch for Lionel, sees the young couple repeating one of their theatrical scenes from Private Lives and draws the wrong conclusion. Matters become highly complicated when Lionel arrives followed by the Bishop of Lax and a German POW disguised as a vicar!
CAST LIST
Ida - Liz Moir
Miss Skillon - Valerie Taylor
The Reverend Lionel Toop - Patrick Medd
Penelope Toop - Elizabeth Field
Lance-Corporal Clive Winton - Tim Randell
The Intruder - Michael Taylor
The Bishop of Lax - Frank Woodcock
The Reverend Arthur Humphrey - Robin Clowes
Sergeant Towers - Alan Stone
Dog - Pepper understudy Honey